FOR CORPORATE CUSTOMERS Fuel cards "Neftika"
Reliability and convenience anywhere, anytime-across the petrol station network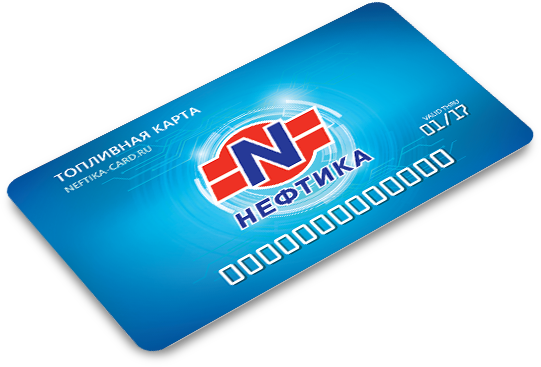 Full control over the expenditure of funds

Control of all operations on the expense of funds and purchase of fuel and lubricants, transparent reporting and the ability to control all card payments in Your account and through a personal Manager.

Wide geographical presence

You can buy fuel where it is convenient with the fuel card Neftika – a network of petrol stations is located throughout Russia, including the Crimea, as well as in Republic Belarus, Ukraine and Republic of Kazakhstan.

Fuel economy up to 30 %

The use of fuel cards "Neftika" allows not only to purchase fuel with significant discounts, but also to prevent unfair actions of drivers who overestimate the amount of fuel used, as well as to reimburse 20% VAT
NEW OPPORTUNITIES FOR COST CONTROL AND ACCOUNTING FOR THE USE OF FUELS AND LUBRICANTS IN THE ENTERPRISE
Sign up at any office of the company "Neftika-Card" and receive a fuel card to become a participant of the corporate program "Neftika" and go to the cashless payment of motor fuel.
The advantages of transferring purchase operations of fuel, oil and lubricants to cashless "Neftika" card:
ability to save money and reduce fuel costs, including through VAT refund;
control of fuel costs through the accessible reporting of all driver's actions with the card;
ability to use limited and unlimited fuel cards "Neftika" for drivers of different categories, set different limits and types of fuel for each driver;
a wide network of petrol stations allows you to refuel where it is convenient - throughout Russia and CIS countries;
ability to change card limits and fuel types only on the application approved by the Manager.
Neftika network is more than 7000 own and partner petrol stations, it is guaranteed high quality of fuels and lubricants, safety and transparency of all operations, and also personal Manager and round-the-clock support on the "hot line". This is an opportunity to optimize and reduce entrerprize fuel costs, as well as to make fuel accounting and control of drivers' expenses more transparent.