For individuals Bonus cards "Neftika"
Do not miss the benefit! Now you have more choice and privileges. You decide how to spend the bonus.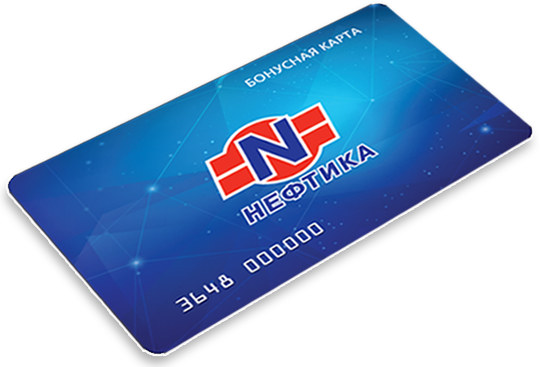 Shop with a card

Spend 1000 rubles on fuel = 30 bonus points on card

Save up bonuses

And get a 10 % discount on related products

Spend bonuses

Exchange bonuses for discounts. 1 bonus = 1 ruble
What is a bonus program?
You refuel at the petrol station and automatic filling stations "Neftika" and get bonuses that accumulate on the bonus card. Subsequently, you can purchase fuel, related products and pay the bill at the petrol station "Neftika" with your bonus points.
Bonuses can only be used the day after they are credited to the card.

Bonuses are not earned from the purchase of related products and products in the cafe.

Bonus card cannot be used in conjunction with fuel card "Neftika".
How to calculate bonuses?
For each 1000 rubles spent on fuel you receive 30 bonuses on the card. 3% off!

Bonuses are valid for use withing a year from the transaction date.

In case of partial payment of goods with bonuses, the accrual of bonuses on the balance of the amount is not made.
How to spend bonuses?
You can use the accumulated bonuses at the petrol station in the form of purchases of related products, payment of the invoice in the cafe, the purchase of fuel.
If you fully pay for the goods bonuses, you get an additional 10% discount on all related products (except for tobacco products)!
How to get a bonus card?

If you refuel for 1200 rubles or more, you get a bonus card for free.
You can exchange your old fuel card for a bonus card for free.
The cost of the card is 50 rubles

Where to spend bonuses

At all petrol stations and automatic filling stations of the Neftika network located in Bryansk and Bryansk region, in Smolensk and Smolensk region.

WE WISH YOU SUCCESSFUL PURCHASES WITH THE BONUS CARD "NEFTIKA"!
AGREEMENT to participate in the BONUS PROGRAM (the PUBLIC OFFER)