INDIVIDUAL FUEL CARDS "NEFTIKA» Fuel cards "Neftika»
Reliability and convenience anywhere, anytime – across the network of petrol stations «Neftika»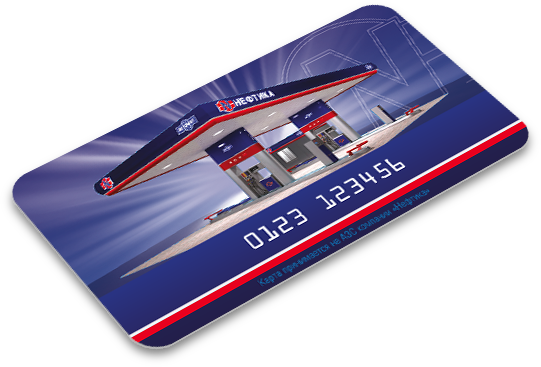 Full control

Control of all operations on the fuel card "Neftika" and accounting for the use of funds

Fuel economy

Using a fuel card is not only convenient, but also profitable thanks to the discounts on fuel

Quality service

Guaranteed high quality service at all petrol stations of its own network
FUEL CARDS "NEFTIKA" FOR INDIVIDUALS FAST, CONVENIENT, PROFITABLE Fast, convenient, profitable
Fuel cards " Neftika "for individuals allow you to purchase motor fuel at the petrol stations "Neftika " at lower prices, save time on payment for fuel and lubricants, as well as to optimize costs. A nice bonus for the owners of "Neftika" cards is the opportunity to participate in special internal promotions and lotteries, which are regularly held at the "Neftika-Card" petrol stations network.
All operations using fuel card "Neftika" are safe, as they have several layers of protection. Cardholder has to set-up a PIN code, so that no one else except him/her can use the card and access the balance. Individual cardholders of "Neftika-card" - receive "a discount in the buck" with every purchase of GSM - the additional amount of fuel that you can get for free up to the amount of discount or "discount card" for the payment of accumulated fuel discounts at any petrol station "Neftika".
Card usage
Fuel cards of Neftika are accepted at all petrol stations of Neftika network. Cards are intended for non-cash payment for fuel. To use all the advantages of the card "Neftika", simply purchase it at any petrol station" Neftika " and top-up the balance. Each time you use the card, you will receive a discount, which the customer can use immediately. The size of the discount depends on the amount of fuel – the larger the volume you fill, the cheaper the fuel will be. All questions on the size of the discount, the order of payments and maintenance of cards you can ask operators round the clock "hot line".
Fuel cardsLoyalty program
We offer a local card "Neftika" for individuals. Contactless card is a modern, reliable and easy way to use fuel card. The card allows the Customer to get the most favourable terms for the purchase of fuel at the petrol stations network with the provision of maximum discounts. The main advantage of the fuel card is that there is no need to pay in cash. You just need to top up the card to get the opportunity to refuel with maximum discounts.
Discounts are regulated depending on the amount of fuel purchased. You can find information about the size of the discount at the petrol station at the operator's Desk. Below on the page is a gradation of the size of the discount on the volume of refuelling. The more fuel You buy, the more Your discount is. In addition to the permanent discounts for the owners of fuel cards, the company constantly holds promotions and prize draws for its customers.
Gasoline
| Fuel filling volume, litres | Discount amount |
| --- | --- |
| up to 20 (inclusive) | 1% |
| > 20 to 70 (inclusive) | 2% |
| > 70 to 120 (inclusive) | 3% |
| over 120 | 4% |
Diesel fuel
| Fuel filling volume, litres | Discount amount |
| --- | --- |
| up to 20 (inclusive) | 1% |
| > 20 to 70 (inclusive) | 2% |
| > 70 to 500 (inclusive) | 3% |
| over 500 | 4% |